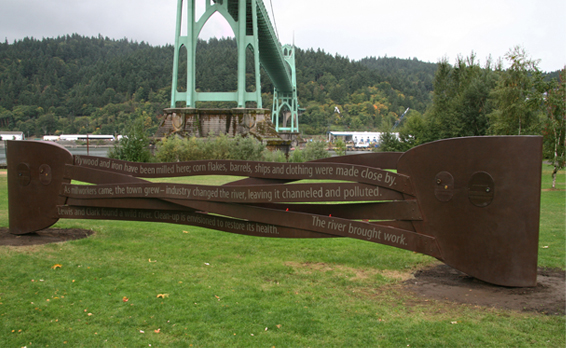 Cathedral Park
Portland, Oregon
"Nearly all the rivers color like the sky and bend in other places after extra pour. This blueness is high ice. Cartographers are smiling at the curves that will recur."
– From Introduction to the Hoh, Richard Hugo (1965)
Cathedral Park is now a beautiful expanse of grass and trees along the Willamette River under the majestic St. Johns Bridge in Portland. For a century it was home to bustling industry, several large mills that depended on the river for power and transport. The town of St. Johns grew as the mills thrived. In 2008, Fels installed "Drawing on the River", a 40' long steel sculpture in the park. Commissioned by Portland's Regional Arts and Culture Commission, the sculpture tells the story of activity at the site, and its effect on the Willamette.
The sculpture's footprint mimics the path of the Willamette from St. Johns to the Columbia. Like the bridge high above, it is a suspension structure. The hull shapes at each end evoke the WWII Liberty Ships that were built nearby; the sculpture's 'hulls' were constructed with interior baffles as they are in building ships. Also within the sculpture's end forms are a looking and a music box listening device, designed with longtime Fels collaborators Rob Millis and Ed Mannery. To listen, a button is pushed winding a spring that turns a music box. One of the music boxes plays Hoagy Carmichael's "Up a Lazy River", which topped the hit-parade in 1931, the year the bridge was dedicated.
The other music box plays "Amazing Grace", a tune played by fiddlers who accompanied Lewis and Clark, who camped there in 1805. The explorers used music to communicate with the natives they encountered on their journey. The viewers in the sculpture feature historic photos, one of a hot air balloon that was featured in the Lewis and Clark Expo in 1905, the other of the world's first plywood mill, also once on the site.
Fels collaborated with Peninsula Iron Works, located at the east edge of the park and the last of the large manufacturing facilities on the site. The third generation firm, run by brothers James and David Johnson, came into being to build the machinery to manufacture plywood. Now they produce and repair huge machines for the steel industry. Fels approached them about fabricating the artwork, thinking it perfectly fitting that their handiwork tell the story of the mills once so prevalent there. For two years Fels worked closely with engineer Dave Johnson, who oversees fabrication at the plant.
They began with a cardboard model and planned a strategy for 'growing' the sculpture. Pen Iron had never built an artwork, but Dave is highly knowledgeable about steel fabrication, and an inspired problem-solver. Fels trained down from Seattle regularly and the sculpture took shape as together they figured out the structural and aesthetic issues. The piece stands as a testimony not just to the site's history, but to their collaboration.